It should come as no surprise that videos are the most popular medium for communication because of how effectively they can engage with the audience. This is because audio-visuals have the ability to quickly capture an audience's attention and elicit strong emotional responses. Influencers, marketers, and media companies are making an absurd number of videos every single day.
Even companies regularly create and distribute videos to increase brand awareness and connect with more potential clients. The sharp increase in global video consumption over the past few years is evidence of this.
According to data gathered by Statista, over three billion internet users watched or downloaded videos at least once per month in 2020. It is anticipated that this number will rise annually, eventually reaching almost 3.5 billion by 2023.
The distribution of these videos to their target audiences is greatly aided by video sharing websites. Nowadays, these websites have gained massive popularity as a result of faster and more dependable internet connections.
However, if you are planning on sharing your videos on such platforms, then you must choose a website that complies with your goals and the type of content you will be creating. To help you with that, we are going to list the top 10 video sharing sites that offer impeccable streaming and uploading capabilities. They're as beneficial for creators as they are enjoyable for viewers.
The Top 10 Video Sharing Websites
In the following section, we will discuss about the most popular websites for hosting or sharing your videos and discuss about them briefly.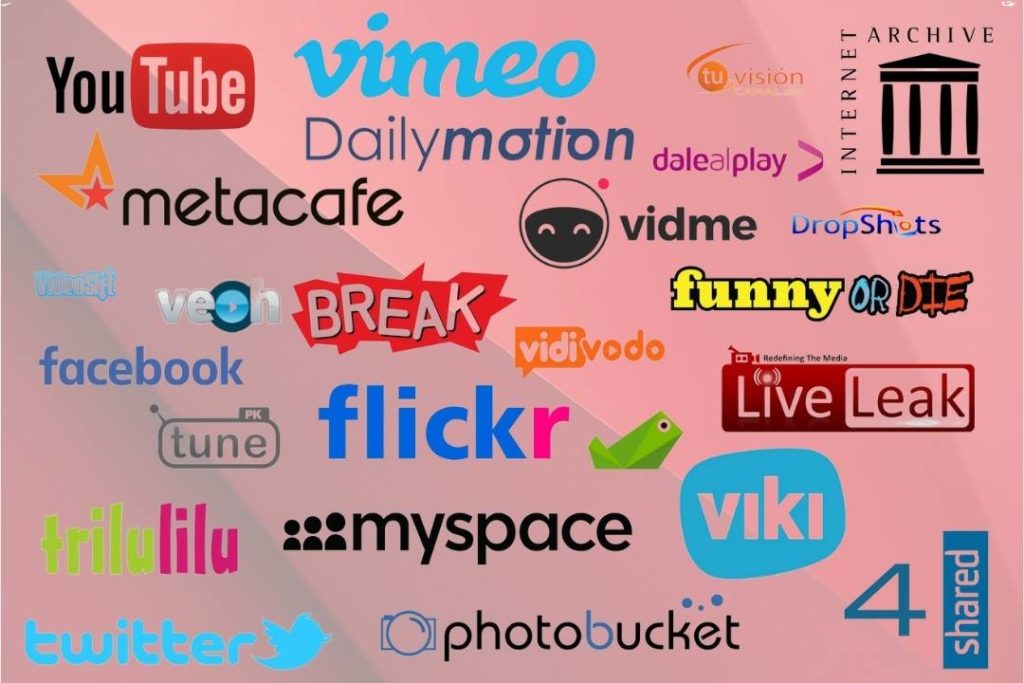 1. YouTube
Without a doubt, YouTube dominates the online video sharing space and is arguably more popular than TV right now. This is probably the first website that people think of when they need to share a video. YouTube, which is owned by Alphabet, the parent company of Google, uses machine learning for indexing and assembling user suggestions. It supports HDR content that can be uploaded in almost any video format and supports resolutions of up to 8K.
Given that it is available in more than 91 nations and supports 80 languages, the website has a truly global audience. Currently, Youtube has more than 2.6 billion users, and people watch more than a billion hours of video on the site daily.
Although most of the videos on YouTube have an average duration of 15 minutes, the verified channels can upload longer videos too. Moreover, following the growing popularity of short videos, YouTube has introduced "YouTube Shorts" that allows users to upload and watch short clips, similar to TikTok.
In addition to monetizing ad revenue, the website has features that enable viewers to financially support their favorite YouTubers.
2. Facebook Watch
The only platform that has an audience size comparable to YouTube is Facebook. In fact, at 2.943 billion monthly active users, it has a bigger audience. But Facebook is a social media and messaging platform first, not a video sharing platform. However, posts including videos have a 135% greater organic reach on the platform than photos.
Following the rapid growth and significant engagement with video content on the platform, an exclusive video content board called Facebook Watch was created. Facebook has also provided access to a new specialized platform called Facebook Creator Studio for content creators to publish and moderate original video material as well as manage subscriptions.
And because of the already established user base of Facebook as a social media platform, Facebook Watch gained mass popularity very quickly. The video-sharing board was launched in 2018, and only after two years, it had more than 1.25 billion users in 2020.
3. IGTV by Instagram
After Facebook and Youtube, Instagram is the most popular social media platform that offers great features and is reliable for sharing content. Instagram surpassed two billion active users in Q3 of 2021 and has since maintained a consistent rate of growth. By 2023, it is anticipated to reach 2.5 billion people.
What's interesting to note is that it's a sister platform to Facebook, as they are both owned by Meta, and is also the best substitute for it as well. And similar to Facebook, Instagram also has a video board that is called IGTV.
This website caters to users looking for portrait-oriented short-form video content. You can either use IGTV directly using its standalone app or from within the Instagram app. The primary objective of IGTV is to increase audience interaction with brands and creators, and the mobile-first design makes it simple for users to find content.
The duration of videos uploaded to Instagram is limited to 10 minutes. So, if your content is short in length and targeted toward smartphone users, IGTV will best suit your requirements.
4. TikTok
TikTok, formerly known as musical.ly, is a social media and video-sharing app that has surpassed all other competitors in terms of popularity in the last few years. Currently, it is the most downloaded app on the internet, with more than 3.5 billion downloads.
Since its release, it has served as a hub for short-form content and has continued to grow exponentially. In September 2021, TikTok reported 1 billion monthly active users globally, a 45% increase from their previous estimate.
Not only are celebrities using this video sharing website in large numbers, but so is the general public. And the best part is, that you don't need much effort to produce videos for TikTok. The platform's rapidly expanding community of content creators, who consistently produce engaging videos, is one of its biggest advantages.
You will have complete control over the organization of your clips, thanks to the abundance of free music and sounds available. Not to mention how the attractive filters, real-time effects, and a variety of AR features enhance the appeal of the videos.
The platform allows users to interact with one another and upload videos up to 10 minutes long in addition to short clips.
5. Vimeo
With a much better video rendering system, Vimeo is the best alternative to YouTube, especially for businesses and marketers. Vimeo accounts for a worldwide audience of more than 260 million users, and 1.7 million paid subscribers. The video-sharing platform is available in 190 countries.
In 2004, the site was developed as a place for creative professionals where they could conveniently show off their work. And as the years went on, it continued to evolve. Vimeo was the first ever platform to support HD content, and currently, it supports up to 8K resolution videos. Moreover, unlike YouTube and most other social media platforms, this website doesn't have ads.
The platform also offers a library of video SaaS tools for businesses, making it an all-in-one video solution. And according to Statista, there were more than 1.58 million subscribers to Vimeo's tools at the end of the first quarter of 2021.
To be clear, even though the website is free, you must upgrade to a paid version in order to utilize all of the website's features, including its video tools. Vimeo offers a storage limit of 500 MB/week for free users and 20 GB/week for pro users.
6. DailyMotion
Dailymotion is also a widely known video platform that you can use for all types of videos. It is an alternative to YouTube that features all types of videos, from marketing to funny cats. And similar to YouTube, viewers can subscribe to your channel and share your videos with their peers and friends. Creators can upload each video of up to 60 minutes with a maximum size of 2GB, while the highest resolution supported by the platform is 4K.
Dailymotion currently has 300 million unique users, and they watch over 3.5 billion videos on the platform each month.
This is still meager compared to Youtube, but it is undoubtedly an excellent place to be to share your videos. Much of its content is news, music videos, and TV shows. DailyMotion recommends videos to users based on the content they've watched recently.
On the other hand, it provides video producers with plenty of flexibility and cutting-edge technology to create videos that inspire their audience and help them grow their business. Creators can earn from the video-sharing site through paid content and advertisements using the platform's Publishing Partner program.
7. Reddit
Next on the list we have Reddit, which is a social news aggregation, content evaluation, and discussion-based platform in the United States, and according to Semrush, it ranks as the sixth most-visited website in the United States and the ninth-most-visited website in the entire world. As of 2022, there are approximately 1.1 billion users of Reddit who are referred to as "Redditors" by the internet-savvy public. Redditors can post a variety of different types of content, including text, pictures, and videos, where other people can upvote or downvote the content to express their reaction.
In addition to commenting and voting, registered users can also create their own subreddit on a topic of their interest where discussions on Reddit are organized. The platform generates huge amounts of traffic, which makes it suitable for sharing videos.
Brands and marketers can take advantage of this and create a discussion among the Redditors by posting engaging videos in relevant subreddits. You can now record videos within the official Reddit app or choose one from your gallery to upload directly to the platform. The maximum video length supported by Reddit is 15 minutes.
8. Flickr
Flickr is an image and video hosting service, as well as an online community, founded in Canada and headquartered in the United States. It was created in 2004 and was a popular way for amateur and professional photographers to host high-resolution photos. Later, on April 9, 2008, Flickr began allowing paid subscribers to upload videos, limited to 90 seconds in length and 150 MB in size.
The following year, Flickr added the facility to upload and view HD videos and began allowing free users to upload normal-resolution videos. 60 million users from 63 countries are actively using Flickr monthly. Although most of the users are using this platform primarily for sharing pictures, this can be a great tool for video marketing following the huge traffic and subscriptions. Businesses and influencers working in the sector of cameras and photography can definitely promote their videos on Flickr.
9. Brightcove
Unlike the other websites in the list, Brightcove is a content management system that is suitable for businesses and provides sophisticated marketing automation integrations. It is a dedicated server-side ad insertion and integration-focused enterprise video hosting service.
All the major publications and even half of all 'Fortune 500' companies utilize this scalable solution for hosting their videos. With Brightcove, you have the ability to live stream to your website or app and manage and sell your own video ad inventory.
Currently, the website manages 16 data centers around the world with 99.99% uptime and generates 675 million video views a week. Plans on this website start at $199 per month, and contracts are typically one year long. However, the platform can be complicated and challenging to use for small businesses and solopreneurs as it was designed for enterprises.
10. Wistia
Another great video hosting site for businesses and marketers is Wistia. It enables small and medium-sized businesses to leverage their video content to generate brand affinity. You can upload, customize, and embed branded videos on this one platform with own channel and market like a media company. This has a free plan that you can use, as long as you don't need to create more than a few videos a month.
However, if you want to host more than three videos a month, there are paid plans as well which extend the limits. What distinguishes Wistia is that it caters to the demands of professional digital marketers as well as data-driven organizations.
From within your video player, you can even capture leads and combine the data with a CRM. Currently, Wistia's solutions are used by over 500,000 organizations in 50 countries, including HubSpot, MailChimp, Sephora, Starbucks, and Tiffany & Co.
Our Take On the Best Video Sharing Website
Creating content requires a significant amount of time, effort, and money. As a result, you'll need a platform that makes it simple to organize, distribute, and, most importantly, monetise your video.
While all of the platforms mentioned above are excellent for publishing and marketing, it is recommended that you select the one that best matches your target audience base and brand strategy. With the right platform and techniques, you can use video content to build more connections, engagement, customers, and income.